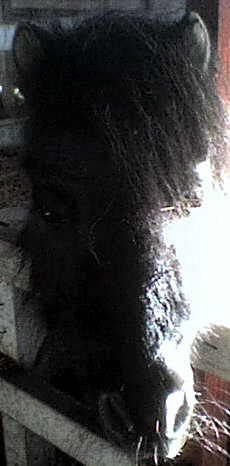 WELCOME TO MICKEYS BLOG!
MICKEYS BLOG !
Hi Everyone
You have probably realised by now that the Shetland Pony Welfare Trust couldn't run without me.
I organise quite a few of the volunteers and Shelts. It was my idea to build the S.P.W.T. Website and my latest idea has just been launched too. (MYPONYSPACE.COM).
I am in charge but "Noonie thinks she is too". Every time Guy the volunteer hands out any food she gives a loud neigh and runs about trying to get noticed.
We are doing a lot of building at the moment. My idea is that every single Shetland should have a nice new stable. Gloria has already said she won't go in any stable (she smashes out).
I don't think anyone has Adopted her but she says she doesn't care. Maybe you will Adopt her.
Cinders and Carla reckon that they won't be able to find their way out of their stable to the paddock. I'm thinking of installing SAT NAVS on their head collars "Another Mickey brainstorm".
The two blonde Shetlands have been showing off again (Petite and Dazzle) they are trying to organise the carrot supply in the main paddock. When the carrots are thrown in they run around trying to put everybody off so they can eat them all.
Oh! Nearly forgot to tell you Vanity has got a new stable and a nice little paddock attached. She is also looking after Hannah who has a sore foot and is next door.
Gosh I have to go now! Just noticed some carrots are being handed out by volunteers must just taste a few to make sure their OK.
Bye for now
Catch next time
Mickey
MICKEYS BLOG..
Hi Their I'm back with more awesome news
Today was incredible. I woke up about 6.00am and discovered something amazing had happened, the whole world had turned white (seriously).
Now because I'm sort of in charge around here I decided it was my job to go and find out what had happened (BUT I MUST ADMIT I WAS A LITTLE BIT WORRIED)
Thomas and the old grey gelding thought this was really funny and that in Scotland this white stuff was everywhere during the winter months (WHOSE HE KIDDING).
The two Blonde Shetlands (DAZZLE AND PETITE) decided to immediately run out into the paddock and start rolling about in the stuff followed by everybody. NOONIE is so big she left a crater in the white stuff at least 10cm deep.
As I have said I like to be the expert on things so I immediately went on the "NET" TO FIND OUT WHAT HAD HAPPENED. "Guess what" ITS CALLED "SNOW" and amazingly you can build things with it.
I soon came up with a plan we could build a SNOW SHETLAND trouble is I don't know how and it doesn't tell you on the "WEB" oh well back to square one.
Wait a minute VOLUNTEERS have come forward WERE BUILDING ONE!