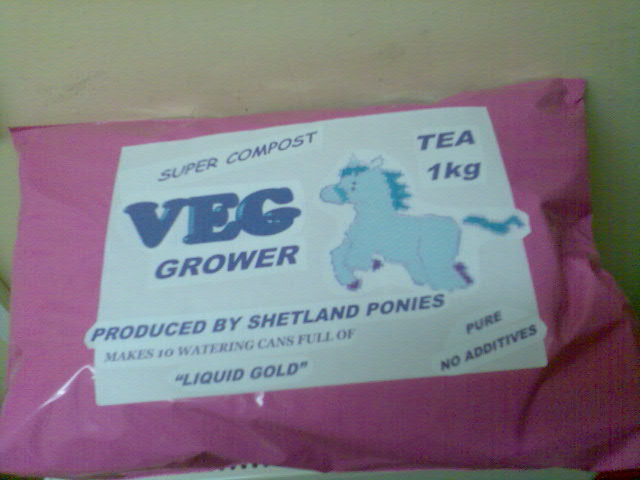 GROWING VEG IN POTS,PLANTERS AND OTHER UNUSUAL PLACES
SUPER COMPOST VEG GROWER
VEG GROWN IN....POTS..PLANTERS,BOXES AND ALL KINDS OF PLACES !
IF YOU ARE ONE OF A GROWING NUMBER OF PEOPLE GROWING YOUR OWN VEG IN ALL KINDS OF UNUSUAL AND FUN PLACES. THEN WE WOULD LIKE TO INTRODUCE TO YOU
A VEG GROWING MARVEL
SUPERCOMPOST TEA
THIS WONDERFUL NATURAL "LIQUID GOLD" CAN LITERALLY TRANSFORM ANY GROWING SPACE INTO A HIGH YIELDING VEG GROWING PARADISE.
SUPERCOMPOST TEA
WILL BOOST THE GROWTH AND FOLIAGE OF YOUR PRECIOUS PLANTS.
THE CONDITION OF THE SOIL IN YOUR PLANTERS WILL ALSO IMPROVE AS THE TEA GETS TO WORK TURNING ANY SITE INTO A RICH HEALTHY GROWING ENVIRONMENT FULL OF THE NUTRIENTS YOUR VEG WILL CRAVE.
SUPERCOMPOST TEA
SPRAYED ONTO FOLIAGE SUPPRESS PLANT DISEASES AND DETERS PARASITES.(the anaerobic bacteria in tea occupies the sites normally attacked by the raiders).
SUPERCOMPOST TEA
PERFECT FOR PLANT MICRO FEEDS. I HEAPED SPOON PRODUCES 500ML OF *LIQUID GOLD" IDEAL IF YOU GROW VEG ON A LIMITED SCALE.
SUPERCOMPOST TEA
EASY TO USE
JUST MIX AND POUR.
USE INSTEAD OF PLAIN WATER EVERY TIME YOU WATER YOUR PLANTS.
SUPERCOMPOST TEA
IS PET SAFE AND CONTAINS NO ADDITIVES OR CHEMICALS.IT IS NATURALLY PURE.
SUPERCOMPOST TEA
IS APPROVED AND RECOMMENDED BY THE COMPOST TEA ASSOCIATION .CO.UK